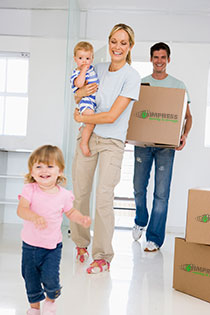 We offer a wide variety of moving services for all types of relocations within the US. Impress Moving & Storage specialize in long distance and local moving services. We personalize each move to meet our customer's expectations and budget. We understand that moving can be a very stressful time for our customers, our expert relocation consultants will take the time to assist each and every customer with any questions, concerns, or requests they may have in regards to their move. Our movers and relocation specialists are extremely friendly and professionally trained, willing and able to take on any job whether it is large or small. Our teams of movers are experienced to handle all types of moves such as local, long distance, and commercial.
Looking to move last minute? Not a problem, Impress Moving & Storage can have a crew of movers there at your place the same day or the very next day.
Our rates are very competitive within the industry and the services that we provide are TOP OF THE LINE. Our goal is to maintain lasting relationships with our customers by providing outstanding services every time. Ask about our customer REFERRAL PROGRAM that benefits YOU!
Take advantage of our FREE ONSITE RELOCATION ESTIMATE with absolutely NO OBLIGATION. Even if you are not ready to move yet, but want an idea of how much it will cost to move your items, we can send one of our professional estimators over to you.
Please feel free to contact us at our toll free number at 888-885-8900 and a one of our representatives will be there to assist you with all your moving inquiries. Speak with one of our highly experienced relocation consultants today!