Packing Services New York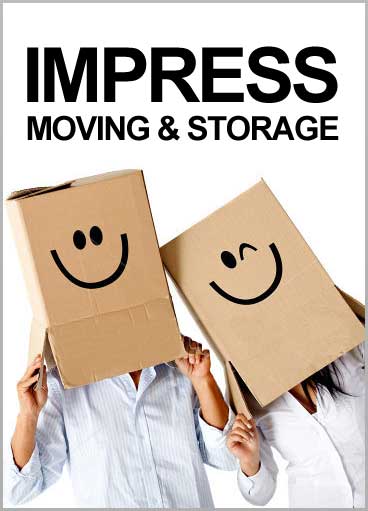 Take advantage of our full packing service! Impress Moving and Storage packing services ensure a full-service move experience for our valued residential and commercial moving customers. Our professional movers will come to your home and carefully wrap and pack all your items so that they arrive to your destination in the same condition in which they left. Call us today at 888-885-8900 and a one of our representatives will be there to assist you with all of your moving inquiries.
Planning on packing yourself? Here are a few tips that will make your packing process a little easier.
Where To Start?
Be safe, smart and efficient! If you are doing your own packing, make sure you give yourself plenty of time, at least two months before your move date and plan carefully. Careful planning and packing will save you time, money and a lot of hair pulling.
Packing Supplies
To make sure your household goods arrive at your new home without a scratch, start with purchasing the right packing supplies. This is an area where you can cut down on cost, if necessary, just remember that buying the right supplies from the beginning will save you time and energy. Keep in mind that we offer our long distance customers with a complimentary moving kit that will be shipped to you ahead of time upon booking.
Boxes
Use the right size boxes. Put heavy items like books in small boxes and the light items like linens and pillows in the bigger ones. (Large boxes that are packed with heavy items are a common complaint of professional movers. They not only make the job harder but also have a better chance of breaking).
Make sure to pack heavier items on the bottom of boxes, and the lighter items on the top. If you are loading the truck yourself, pack heavier boxes first, toward the front of the truck for the balance. Make sure NOT to leave empty spaces in the boxes. Try to fill the empty spaces with clothing, towels, or packing papers. Movers often won't move boxes that feel loosely packed or unbalanced. Avoid mixing items from different rooms in the same box it will make your packing quicker and your unpacking a lot easier, and quicker too buy oracea .
Clothes Packing
When packing your clothes, you don't want to neatly fold them individually as you usually do in your closet or dresser. If you do, they will crease when compressed.
Rolling your clothes is one of the best options to pack them. Rolling works well with pants, skirts and sports shirts. Lay the item face down, fold back the sleeves and then roll them from the bottom up. Take two or more outfits and lay half of one pair on top of the other. Fold the one on the bottom over the pair on the top. Then take the other and fold it on the top. This gives each pair some cushion where you've folded it so it's less likely to crease or wrinkle in the folds.
Artworks and Dishes
Make sure NOT to wrap oil paintings in regular papers, it will stick and will damage your artworks. When you pack your dishes, make sure to put enough packing paper around each one of them, then wrap bundles of four or five together with more packing papers around them. Pack the dishes on their sides, never flat and use plenty of bunched-up papers as padding above and below. Cups and bowls can be placed inside one another, with papers in between, and wrapped four or five together in a bundle. Pack them all in the correct dish-barrel boxes that are made especially for this kind of fragile items.
As a reminder Impress Moving and Storage also offers complete and partial professional packing services at very affordable rates. Our professional teams will be more than willing to do the packing for you! Call us now at 888-885-8900 and our customer service staff will be able to provide you with your cost estimate and schedule the packing services for your upcoming relocation.